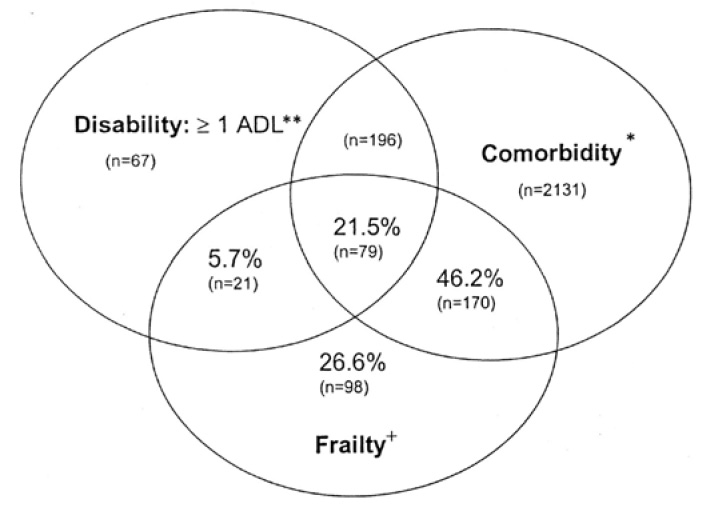 Figure 12.3—Venn diagram displaying the extent of overlap of frailty with activities of daily living disability and comorbidity (≥ 2 diseases). Total represented: 2762 subjects who had comorbidity, disability, or frailty (or two or all three). The number in each group is indicated in parentheses.

+ = Frail: overall N = 368 frail subjects (both cohorts).

* = Cormorbidity: overall N = 2576 with two or more out of the following nine diseases: myocardial infarction, angina, congestive heart failure, claudication, arthritis, cancer, diabetes, hypertension, chronic obstructive pulmonary disease. Of these, 249 were also frail.** = Disabled: overall N = 363 with a disability in activities of daily living. Of these, 100 were frail.(Source: Fried LP, Tangen CM, Walston J, et al. Frailty in older adults: evidence for a phenotype. J Gerontol A Biol Sci Med Sci 2001;56(3):M146–M156. Copyright © The Gerontological Society of America. Reproduced with permission of the publisher.)

One new comorbidity index, the Geriatric Index of Comorbidity, combines the number of diseases and their severity. 133 This particular measure was found to have greater concurrent validity with disability and to be a better predictor of mortality than other measures in common use.

Modification of This Question in Light of New Research: We recommend keeping this question on the research agenda without modification, as findings of such research are still needed.
Rehab 21 (Levels B, A): Observational and cohort studies are needed to define the efficacy and safety of specific types of exercise, assistive devices, and orthotics for arthritic and musculoskeletal conditions. These studies could lead later to controlled trials comparing the most promising interventions.
New Research Addressing This Question: Estimates are that the prevalence of osteoarthritis will increase by 50% by 2020. 134 Because osteoarthritis affects multiple joints, research challenges include identifying which specific joints are being studied, as back, knees, hip, feet, and hands can all be affected. And although sometimes emphasis has been on mechanical effects as contributory, there may well be metabolic components. For example, in obese patients with osteoarthritis of the knee, there is also an increased incidence of osteoarthritis in non-weight-bearing joints. Exercise is now accepted as a core component of any rehabilitation regimen because of its benefits, such as delaying the onset of ADL disability. 135 The American Geriatrics Society has published a guideline reviewing the consensus on exercise in osteoarthritis. 136
Total joint replacements to treat advanced disease will likely be performed more frequently in our aging population. Some studies have looked at specific components of this type of surgery. Minimally invasive total hip replacements are being done in some patients, generally younger. In one series that controlled for three comorbid conditions, recovery was very fast. 137 Timing of these surgeries has been evaluated. Surgeries earlier in the course of the disease may in the long run be more beneficial. 138
Currently, joint replacements decrease pain and impaired function from arthritic conditions in both the knees and hips. Most patients benefit from these surgeries, but greater gains in function and decreases in pain are associated with social supports (defined as being married or living with someone). One study found that about 20% to 30% of the patients were both unmarried and living alone. Both their pain and function were worse initially at 1 month after surgery but back to levels similar to the general population by 12 months. 139
Poorer outcomes after total hip replacement occurred in 10% of 922 patients who were re-evaluated through a self-report questionnaire 3 years after surgery. These patients, who had moderate difficulty with all functional activities or worse, experienced pain in the back or lower extremity, severe pain in the operated hip, poor mental health, more than one common geriatric problem, and obesity, and all also had less than college education. 140
One randomized controlled trial compared a structured exercise program both before and after total hip replacement surgery with usual care in Australia. The exercise group received two supervised clinic sessions a week and were to repeat the activities at home two times a week for a total of 8 weeks before surgery. These structured exercises were continued for 12 weeks after surgery. The control group received only the instruction from hospital therapists. Both groups were comparable in basic demographics, neither group had surgical complications, and the same surgeons operated on the patients in both the intervention and control groups. At 24 weeks after surgery, both stride length and speed of gait were greater in the exercise group. 141
A Canadian study evaluated clinic-based total knee replacement rehabilitation, comparing it with a home program that was taught to patients during the 5- to 7-day hospitalization. No differences were found between the two groups. 142
Pain management from total knee replacement during inpatient rehabilitation was found to be improved in a randomized trial using oxycodone twice a day. Patients were able to walk further and had lengths of stay 2.3 days shorter, on average. 143 In total knee replacements, the use of continuous passive motion machines and slider boards has not been associated with better range of motion at discharge, 3, or 6 months. 144
The effects of dehydration can be marked in older orthopedic rehabilitation patients. Length of stay was significantly longer for patients with azotemia (BUN/creatine ≥ 20) and orthostatic hypotension (13.6 ± 2.7 days versus 7.2 ± 2.8 days) than for patients without these conditions. Discharge function was similar in the two groups. 145 These huge differences in length of stay indicate a real need to evaluate this problem and possible early interventions in more detail.
Little work has been done focusing on patients' subjective experience before, during, and after joint replacement. One such study used grounded theory in interviewing 9 patients with varied total knee replacement experiences. Patients' experiences were summarized as "enduring," "thinking twice," and "keeping faith." 146 Better understanding of these experiences may lead directly to changes in the prehabilitation, hospitalization, and postoperative phases of the patients' joint replacements.
Modification of This Question in Light of New Research: We recommend keeping this question on the research agenda without modification, as findings of such research are still needed.
Rehab 22 (Levels B, A): Observational and cohort studies are needed in the rehabilitation of musculoskeletal conditions to obtain preliminary data on the effects of the location of the physical therapy, the level of expertise of therapists needed, and how much is accomplished by education of elderly patients. This could lead eventually to controlled trials assessing these variables.
New Research Addressing This Question: Our literature review found no reports addressing this issue.
Modification of This Question in Light of New Research: We recommend keeping this question on the research agenda without modification, as findings of such research are still needed.
Rehab 23 (Levels B, A): Hypothesis-generating research followed by hypothesis-testing research is needed to identify the key components facilitating better outcomes that are seen in some settings and to identify ways to optimize treatment and outcomes among elderly patients unable to tolerate therapy in a stroke unit or rehabilitation hospital.
New Research Addressing This Question: A major study has identified many of the components of inpatient IRF care processes for stroke patients and has related these to patient outcomes. 43 (See the discussion under Rehab 11.) Multiple aspects of more effective treatment components were identified.
The usage patterns of anticoagulant, antihypertensive, nonsteroidal anti-inflammatory, and antiplatelet agents in the Post-Stroke Rehabilitation Outcome Project study have been described. Many stroke participants received prophylaxis for deep-vein thrombosis, but 65 cases occurred, almost all in patients with moderate to severe stroke and many within the first day or two of admission. Thirty-three percent of participants received no antiplatelet or anticoagulant medication, suggesting possibilities for increased secondary stroke prevention. Antihypertensive medications were used in 73% of patients, and their blood pressures were on average higher than those of nonhypertensive patients during the entire rehabilitation stay, despite medication use (mean systolic at discharge 146.6 versus 131 mm/Hg). More aggressive blood pressure lowering is indicated during rehabilitation, if tolerated by patients, given the proven benefits of secondary stroke prevention. Neurostimulant medications were used in 20% of participants and were not associated with any differences in length of stay or cognitive or motor recovery. Pain medications were frequently used, and sites of pain, in order of decreasing frequency, were the head, leg, back, shoulder and hip. 147
Other new research is studying constraint-induced movement therapy that improves motor function in specific types of patients. 148–150 One mechanism is having patients overcome learned disuse. A recent multicenter randomized study included 222 patients who had mostly ischemic strokes in the prior 3 to 9 months and noted that 106 who underwent constraint-induced motor therapy demonstrated clinically relevant improvements in arm motor function that persisted for at least 1 year. 151 Researchers are studying the potential benefits of robotics in stroke rehabilitation with promising approaches. 152,153
The interactions of family function, caregiver health, and stroke survivor function were evaluated in a trial of 132 patients who had had strokes 3 to 9 months earlier. Thirty-two percent of the families scored positively for ineffective family functioning. Some family conflict was reported by 66% of the caregivers. Predictors of worse caregiver mental health (measured from the Medical Outcomes Study Short Form 36) included ineffective family functioning as well as poorer memory and behavior function in the stroke survivor. High family conflict was associated with poorer caregiver mental health, even if the stroke survivor had lesser memory and behavior problems. 31 In another study evaluating caregivers, a randomized controlled trial of early supported discharge to home for stroke survivors included education and support. Caregivers receiving this intervention consistently experienced a lower caregiver burden than caregivers receiving usual care. 154
Effective stroke rehabilitation care, in the form of adherence with the stroke rehabilitation guidelines, is associated with better functional outcomes. 155 These are among the first data that validate the recommendations made by the national post-stroke rehabilitation guidelines. 156
Stroke rehabilitation continues to need to focus on longer term outcomes. In a study that evaluated participation at 6 months after stroke onset, a significant number of people were found to have problems with travel, social activities, recreational activities, moving around the community, and having an important activity to fill the day. 157 Studies for effective interventions to help in these areas are needed.
Modification of This Question in Light of New Research: We recommend keeping this question on the research agenda without modification, as findings of such research are still needed.
Rehab 24 (Level A): Randomized controlled trials of exercise-based cardiac rehabilitation, as a function of age and comorbid conditions, would be very valuable and are urgently needed.
New Research Addressing This Question: Cardiac rehabilitation programs in older adults will need to adapt to increased activity limitations and chronic comorbidities. In evaluation of two nationally representative cross-sectional surveys (the Health and Retirement Survey and the Assets and Health Dynamics of the Oldest Old study), Oldridge and Stump identified an increased likelihood of mobility and other activity limitation among those with heart disease and especially those with multiple comorbidities. 158 Cardiac rehabilitation programs need to be aware of these issues, both to determine optimal programming and to be sure patients are not unnecessarily excluded from beneficial cardiac rehabilitation. This may be especially important, given preliminary data from a descriptive study of 6-month cardiac rehabilitation program outcomes. The patients studied had a mean age of approximately 76 and had all undergone coronary bypass surgery; they had self-selected to participate in a cardiac rehabilitation program or not. These two groups were generally comparable as a result of the use of strict exclusion criteria. Lower-extremity function and balance were clearly better at 6 months in patients who had participated in the rehabilitation program. 159
A randomized controlled trial of cardiac rehabilitation for patients with significant cardiac disease is ongoing in Denmark. Forty-nine percent of the 770 subjects are 65 years or older. The researchers noted, however, that the percentage of eligible older patients who consent to participation drops as patients get older. For example, only 17% of eligible patients aged 85 years and older agreed to participate in the study. 160 Nonetheless, this study will contribute to understanding the value of cardiac rehabilitation in older adults.
Modification of This Question in Light of New Research: We recommend keeping this question on the research agenda without modification, as findings of such research are still needed.
Rehab 25 (Level A): Randomized controlled trials are needed to test the efficacy and safety for elderly patients of early, high-intensity physical therapy following hip fracture surgery and of postoperative restrictions on ambulation.
New Research Addressing This Question: Outcomes from hip fractures are highly variable—from full recovery of walking abilities and activities to survival at wheelchair level to death. If we understood patient prognoses better, it would be clearer for whom the hip fracture represented disability at the end of life where little or no recovery would be possible, for whom recovery would be total without residual problems, or for whom outcomes would fall in between. Clinically appropriate and cost-effective therapies could then be better targeted. One creative analytic approach to this issue used cluster analysis. By collecting known and suspected predictive variables, the researchers used cluster analysis to identify four typological categories, or profiles, of patients with different 1-year outcomes. For example, those patients who died during 1-year follow-up were found to have had significantly diminished prefracture leisure activities, increased disorientation, more comorbidities, greater use of drugs, and unfavorable levels of prefracture ADL scores and relative perceived health. 161 Additional work on this approach may help clinicians more explicitly target appropriate disability management strategies.
Other studies have identified risk factors for mortality and decreased walking ability after hip fracture in individual patients and in comparison with age-matched community-dwelling populations. 162,163 Active medical issues play a role. 164 Neurologic comorbidity complicates hip fracture rehabilitation and is associated with longer lengths of stay and overall lower functional scores in comparison with controls (hip fracture patients without neurologic impairment). However, no difference was found in the amount of functional gain between the two groups. 165
Rehabilitation outcomes have been known to depend on social supports in certain situations. In hip fracture patients, a standardized rehabilitation and discharge planning protocol during acute care hospitalization was found to yield better results only in those patients with low social supports (assessed as number of contacts outside the home and the size of patients' social networks). Three-month Barthel Index scores were better, and more patients were living in the community at 6 months. 166
Rehabilitation services have usually been provided for the few weeks or months after a fracture. However, in a randomized controlled trial, a duration of 6 months of physical therapy (three times a week) that included resistance training was found to result in improved physical function and mobility in more frail community-dwelling patients. Quality-of-life reports were better at 9 to 12 months as well. 167 This finding underscores the potential of structured strength training and exercise in recovery. The next issue is practical implementation, and payment for, such a relatively extensive intervention.
Optimal settings for hip fracture rehabilitation have been evaluated. In Finland, a randomized controlled trial (N = 243) compared outcomes for patients with dementia and hip fractures who were rehabilitated on a geriatric inpatient service with outcomes for patients who received usual local hospital care. Patients with moderate dementia, a Mini-Mental State Examination (MMSE) score of 12 to 17, had shorter inpatient rehabilitation stays (47 versus 147 days, P = .042), and a higher percentage were living at home at 3 months (63% versus 17%). Patients with mild dementias (MMSE scores 18 to 23) also had shorter rehabilitation inpatient stays (29 versus 46 days, P = .002), and more were living at home at 3 months (91% versus 67%). 168
One summary review of best practices for older hip fracture patients concluded that evidence has identified some peri-operative practices with consistent benefits. 169 However, types of surgical management, postoperative wound drainage, and even multidisciplinary care do not have consistent evidence for improving outcomes. 170 In combination with some of the work described above, more detailed research is required to determine optimal interventions for specific subcategories of hip fracture patients.
Modification of This Question in Light of New Research: We recommend keeping this question on the research agenda without modification, as findings of such research are still needed.
Rehab 26 (Levels B, A): Observational and cohort studies should be performed to compare the costs and benefits of using newer prostheses in younger and older persons; factors found to be associated with better outcomes for older persons should then be tested in controlled trials.
New Research Addressing This Question: A detailed descriptive study of a 5% sample of Medicare patients who had index amputations in 1996 (N = 3565) documented considerable 1-year morbidity and mortality. Reamputation rates for persons with initial amputations at the toe, at the foot or ankle (or both), transtibial, transfemoral, and bilateral sites were 35%, 39%, 23%, 14%, and 29%, respectively. One-year mortality rates for these levels were, respectively, 23%, 29%, 36%, 50%, and 53%. 171 In a study using Massachusetts Hospital Case Mix and Charge Data from 1997, discharge locations after amputation were as follows: only 33% home, 32% to SNFs, 16% to inpatient rehabilitation, and 15% to other sites. 172
Better evaluation methods for level of amputation would be very helpful. Out-of-pocket costs and health insurance benefits for care can accumulate significantly for patients and families with each amputation episode. Reasons for high mortality are likely due to diffuse vascular disease and merit further research. Rehabilitation programs, in collaboration with primary care physicians, need to consider this significant mortality in planning appropriate rehabilitation approaches. On a systems level, the rate of dysvascular amputation increased 27% between 1988 and 1996. 173 With the increasing age of the population, the number of patients experiencing amputations will likely increase and require improved systems of care. 174
Modification of This Question in Light of New Research: We recommend keeping this question on the research agenda without modification, as findings of such research are still needed.
Rehab 27 (Levels B, A): Basic laboratory research is needed to determine the factors that cause sarcopenia or that interact to cause it in older persons. Findings from this research should then be used in clinical trials of interventions to prevent or treat sarcopenia.
New Research Addressing This Question: Our literature search found no articles on sarcopenia. However, several articles discussed aspects of bed rest, which we include under this rehabilitation question.
Bed rest, an acute form of inactivity, causes a series of physiologic changes usually referred to as deconditioning. In order to truly constitute deconditioning, these changes must be reversible once activity is renewed. Little study has been done measuring specifically the effects of bed rest on older healthy adults. It has been assumed, however, that physiologic decrements are likely to be similar to those experienced by younger persons. Functional decrements have long been assumed to be related to bed rest. The association of bed rest and functional decrements has been confirmed in a study of 680 nondisabled, community-living persons aged 70 years or older. Study participants were asked about "taking to bed" and were surveyed again at 18 months. The loss at 18 months from baseline in instrumental ADLs, mobility, physical activity, and social activity was found to be greater with increasing self-reported days of bed rest in nonfrail individuals than in frail ones. Of note, the nonfrail group always performed better than the frail group. 175
Special challenges exist for keeping people active once they have lost the ability to be active on their own. One assessment of a bedfast quality indicator report found that SNF residents spend an average of 17 hours in bed, indicating significant disability. 176
For especially frail elderly patients recovering from acute illness, a very slow inpatient rehabilitation program may be necessary to get them home. A Canadian study of 154 patients described outcomes of "slow stream rehabilitation." Eighty percent of patients came from acute care hospitals and 14% from "fast stream" rehabilitation sites. Fifty-three percent of the patients were discharged to their preferred discharge goal location (the great majority were home) with a long rehabilitation program of up to 9 months. Markers distinguishing these 53% from those who remained in a nursing home included expert clinician opinion, good vision, better ADL function, and help at home. 60
Modification of This Question in Light of New Research: We recommend keeping this question on the research agenda, as findings of such research are still needed, but with the addition of research that focuses on deconditioning as well as on sarcopenia.
Rehab 28 (Level A): Randomized trials are needed to examine the merits of specific falls-prevention interventions (eg, types or duration or frequency of exercise, mobility aids, home safety interventions) and for specific subgroups of elderly patients (eg, cognitively impaired, hospitalized) and to examine the cost-effectiveness of various falls-prevention strategies.
New Research Addressing This Question: Fear of falling, an independent risk factor for functional decline and decrease in recreational physical activity, has been evaluated in older hospitalized patients, patient with hip fractures, patients with amputations, older adults transitioning to frailty, and community-dwelling seniors. 177 Fear of falling is associated with history of falls (but not always), a lower Falls Efficacy Scale score (feeling less confident of ability to do activities without falling), use of a walking aid, and more ADL dependency. 178 Fear of falling, even in the absence of any fall history, can be associated with a greatly increased risk of institutionalization. In one study of rehabilitation for hip fractures, Falls Efficacy Scale score was found to improve, but this did not correlate with improvements in the FIM score. 179 This suggests that falls efficacy could be targeted for treatment in more comprehensive hip fracture rehabilitation. Fear of falling is present in patients with amputation, especially if overall perceived health is fair to poor. 180 Even healthy older women without a history of falls can have a fear of falling. This fear of falling is present in active women but is greater in less active women. 177 Falls are independent predictors of the development of the fear of falling. In turn, fear of falling is a predictor of falling. 181 Interventions that help reduce the fear of falling include a physical activity or education program and Tai Chi. 182,183 For rehabilitation patients, a unidimensional fear of falling measure was developed through Rasch analysis. It includes 16 items and rates people's fear of falling on the basis of a hierarchy of activities. 184 This may provide a newer fear-of-falling instrument for research and clinical use.
Risk factors for falls have been extensively studied. Dual tasking of cognitive and physical tasks becomes harder to do in older patients. Maximal motor performance was found to decline significantly with concurrent cognitive tasks, especially in older adults with a history of injurious falls and cognitive impairment. 185 This may be the link between cognitive impairment and higher risk of falls.
A measure of gait stride length variability in ambulatory community-living adults aged 70 years and over is predictive of falls during the following year. 186 In patients admitted to home health care, risk factors include gait and balance difficulties, wandering, depression, and living in unsafe dwellings with environmental hazards. 187 The development and use of normative standards on common objective measures like the Six-Minute Walk Test, Berg Balance Scale, Timed Up and Go Test, and comfortable- and fast-speed walking may help in assessing older adults. 188
Recurrent falls are an especially challenging rehabilitation problem. For example, one study found that of 100 hip fracture patients, 53% fell at least once in the 6 months following the initial hip fracture. 189 A cluster of risk factors for these is not surprising—lower performance on balance and mobility measures, prefracture falls history, and use of a gait device.
One small randomized trial used a bilateral separated treadmill to train frail older adults, most of whom had fallen once already. The control group received usual care. Gait parameters improved, but falls over the next 6 months were similar in the exercised and control group. 190
In the past, multiple types of interventions—either single interventions or several concurrent interventions—have been tested for falls reduction. Some exercise programs and multidimensional interventions have most effectively prevented falls. 191 A randomized factorial trial tested three interventions (exercise, vision, home hazard management) separately and in combination in 1090 participants. The home hazard assessment was included because these are readily available at low cost in Australia. Results showed that the greatest reduction in falls occurred when all three interventions were combined. Exercise alone yielded benefit (14% estimated reduction in annual fall rate, number needed to treat of 7), but neither vision or home hazard management alone reduced falls. 192 Another study, a randomized controlled trial of clinic-based 6-week exercise program for community-dwelling older adults, demonstrated modest reductions in falls at 6 months. 193 One limitation on generalizing such an intervention is that a significant number of participants did not complete the full exercise program. Interventions to reduce falls therefore seem to be more feasible when done at home, but they require sufficient exercise to improve aspects of balance and mobility.
Risk factors for falls were successfully decreased in a study of women with thoracic kyphosis of 50 to 65 degrees (Cobb angle). These women were compared with age-matched controls and showed significantly worse balance and gait by objective measures. The women then received a 4-week spinal proprioceptive extension exercise dynamic program with the use of a spinal weighted kypho-orthosis. Significant improvements occurred in balance, muscle strength in the back, and in the falls efficacy score (from 32.4 ± 13.8 to 13.5 ± 3.5, P < .001 with score of 10 normal). Mean physical activity improved as well. 194
Modification of This Question in Light of New Research: We recommend keeping this question on the research agenda without modification, as findings of such research are still needed.
Rehab 29 (Levels B, A): Observational and cohort studies are needed to clarify the natural history of pain syndromes, identify risk factors, and describe the effects of treatment approaches. Ultimately, the most promising approaches should be identified and tested in controlled trials.
New Research Addressing This Question: Pain always has been a huge clinical issue, especially in older patients. One community survey of older adults found that 72% had experienced as least some musculoskeletal pain in the prior 2 weeks. Severe pain was associated with disability. 195 In the rehabilitation process, pain is common, and management challenges are similar to those with pain in other areas of medicine. Pain treatment always requires a comprehensive, whole-person approach. Current recommendations point to the areas requiring research in rehabilitation in general, especially in postoperative geriatric pain management, cancer, and persistent pain. 196–199
Modification of This Question in Light of New Research: We recommend keeping this question on the research agenda without modification, as findings of such research are still needed.
New Horizons in Geriatric Rehabilitation